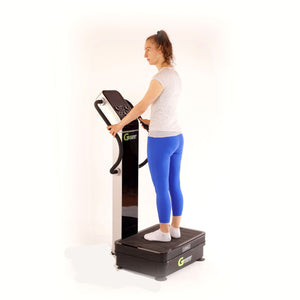 Osteoporosis and Whole Body Vibration Plate Exercise Machines
Whole Body Vibration Plate Machines can help treat a variety of ailments. We've already covered how the machines can help with TMD/TMJ, Varicose Veins, and even assist with relaxation. There are also several Whole Body Vibration exercises to utilize in providing yourself with better overall health.
Osteoporosis and How to Treat It With Whole Body Vibration Plate Machines
Simply put, Osteoporosis is a wakening and thinning of bone density. When you use Whole Body Vibration, you're stimulating the osteoblasts in the bone that speed up the production of bone mineral, therefore increasing bone density.
In fact, research from the Department of Veterans Affairs Journal of Rehabilitation Research and Development (2009) has shown that biomechanical stimulation while using a Whole Body Vibration Plate Machine can produce measurable improvement in bone mineral density.
To treat Osteoporosis, simply stand on the Whole Body Vibration Machine and starting with Pre-set Program 1 for the first few days, gradually increase to the highest pre-set program. You should gradually see improved results.
---